100 Tonne Grove GMK4100L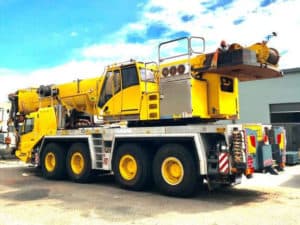 The Newest Addition to our Fleet
Will reach 34m with 500kg with onboard counterweights.
Fully Counterweighted will reach 50m with 500kg.
Six section booms.
Weight is 47.7 Ton.
Overall length 13.6m
Carrier Length 10.75m
Outrigger footprint 8.4m long x 7m wide
Long Term / Short Term Dry Hire is POA pending requirements.
Please contact our friendly staff on (08) 9302 3000.
Load Chart