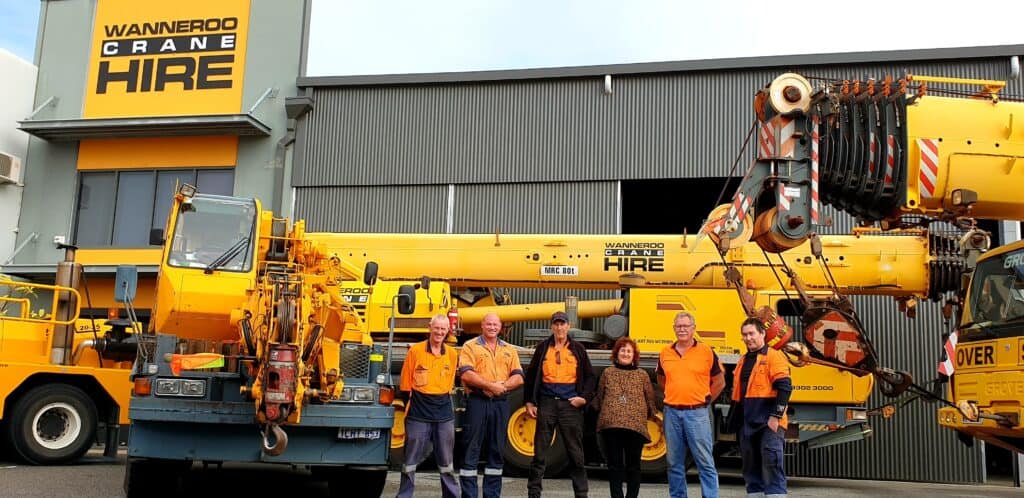 About Wanneroo Crane Hire
Perth's Northern Suburbs Crane Hire
Wanneroo Crane Hire is a Western Australian owned and operated company, based in Perth's northern suburbs. We specialise in the wet and dry hire of cranes to Perth's construction industry, domestic house building industry, private sector, and general industry.
Wanneroo Crane Hire began operations in 1986 with two cranes and over time have expanded to a fleet of eight cranes
Our Fleet
Today, Wanneroo Crane Hire operates eight cranes:
7-tonne Kobelco Slewing Crane,
16-tonne Kobelco Slewing Crane,
10-tonne Linmac (Franna) AWD Crane,
14-tonne Linmac (Franna) AWD Crane,
Three 20-tonne (Franna) Humma Cranes,
30-tonne Liebherr Slewing Crane
As well as these cranes we also have access to a variety of other cranes to ensure that the right equipment for your job is available to you.
We also supply an extensive range of lifting equipment including, Man Cages, Brick Cages, Pallet Lifters, and Spreader Bars.
Our People
With over 30 years of industry experience, we have gained a reputation for our quality of service, attention to detail, and safety in the workplace.
Our crane operators are punctual, professional and fully qualified. They have the skills and expertise to accommodate all types of jobs from long-term to one-off and short-term projects.
Our Services
Wanneroo Crane Hire offers a range of services to Perth's construction, civil, mining, industrial, and private sectors, including:
Construction Industry
Commercial Buildings – lifting roof sheets, air-conditioners, concrete panels, conveyors, electric motors, and structural steel
Quarry Work – providing assistance with shut downs, and maintenance. Ladders and mancage avaliable to assist.
General Construction – erection of buildings, roofing, and air conditioning, and moving of heavy plant, equipment and materials.
Plant and Machinery – installation and commissioning
Private & Domestic
Construction of new homes
Renovation or extension of existing homes
Lift trees, spas, pools, cubby houses, soak wells, hot water systems, patios, gazebos, caravans and storage containers
Assist brick layers, roof carpenters, and roof contractors
Move or lift equipment, including drill rigs and bobcats
Wanneroo Crane Hire is fully insured and has a third party property damage limit of $10 million. We also fully comply with Occupational Health and Safety guidelines.
Contact our friendly team for a pre-appraisal and quotation. We can recommend the right equipment to suit your needs, and supply competent operators at competitive prices.