Pineapple Club Festival Set Up
With summer almost coming to an end, Perth has seen many great festivals and events being run in and out of lockdown. WA has been fortunate enough to keep on celebrating some major annual events, including Pineapple Club, despite having postponements due to COVID. Working together with Showscreens the last few years, last November, Wanneroo Crane Hire took part in the set up of Pineapple Club, kicking off the summer festival season at Burswood Foreshore. With a wide range of festival entertainment including two stages, rides, a silent disco and various food and drink offerings, the event was a major success all thanks to the meticulous planning and set up to follow regulatory frameworks set out by the Department of Health.
With Showscreens coordinating the setup, our 7 tonne Kobelco Crane did all the heavy lifting (literally!) which included 32 screens, the famous giant pineapple cutout and sales booths. It took Wanneroo Crane Hire 3-4 hours to complete and the results definitely delivered over the weekend. With a portion of ticket sales going to Telethon, Pineapple Club is an event that provides all the fun whilst donating to a good cause. View our pictures below of some shots taken during setup and the festival: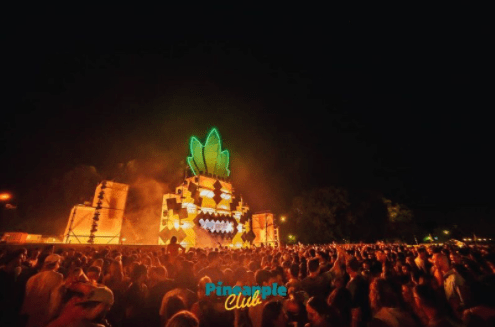 Stay up to date with Wanneroo Crane Hire projects via our Facebook page and more great materials of our recent work!