Repairing and Rebuilding with Humma Cranes: Enerflow Mining Services
At Wanneroo Crane Hire, we are proud to use 100% Australian made and owned machinery across a range of our projects. Since October 2017, we have had the privilege of operating Humma Cranes for ongoing work at Enerflow Mining Services in Neerabup. Our world-class team of crane operators man the largest articulated pick and carry cranes in the world, with the Humma crane having a capacity of 55 tonnes. These cranes are unique to Australia and are the evolution of the Tractor Crane, with increased safety and stability, Humma cranes can also reach road speeds of up to 100km/h! Our partners at DRA Group have facilitated our crane services and have recently celebrated 25 years of manufacture in their crane division.
Our ongoing project with Enerflow Mining Services sees the Humma crane hire on a daily to weekly basis assisting with lifts for repairing and rebuilding mining equipment. These include buckets for front end loaders and excavator machines, masts and track frames for drilling rigs. Enerflow Mining work on designing and engineering this equipment and their components to a world-class standard. Made to order and all produced onsite, Enerflow's vast experience delivers mining equipment with innovative design and performance benefits. However, due to the size and weight of the equipment, Wanneroo Crane Hire cranes are required to flip, load and offload them onto trucks throughout the repair stage.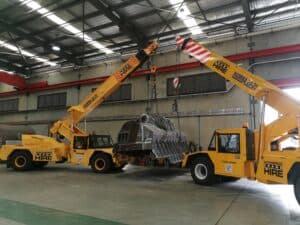 Wanneroo Crane Hire skillfully assisted in dual lifting with 2x Humma 20 Ton Cranes and 80-ton slewing cranes to flip buckets and tracks at different stages of repair. We look forward to continuing our work and future projects with Enerflow Mining Services and have been proud to work with local suppliers and businesses. Check out more of our project photos and stay up-to-date via our Facebook page!